Messages

1
Likes

0
Location
//**FORMULA DRIFT! Coming June 11th, 2005 @ Houston, TX**\\
THE BIGGEST EVENT THIS YEAR
FORMULA DRIFT
June 11th, 2005 @ RELIANT PARK, HOUSTON, TEXAS!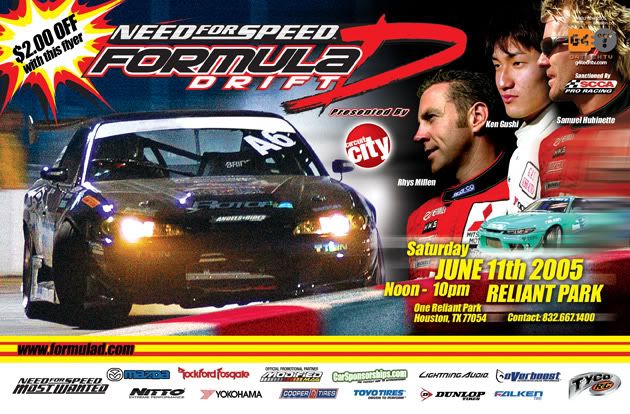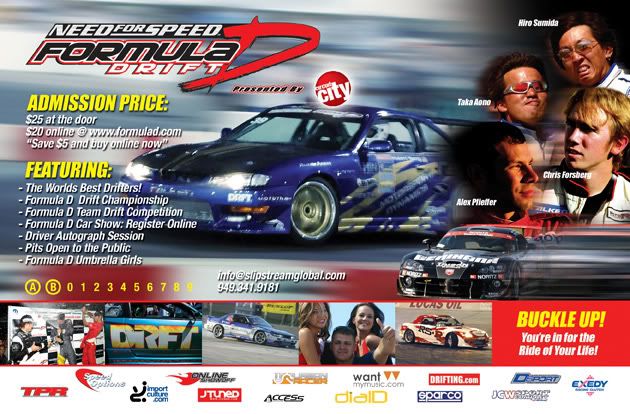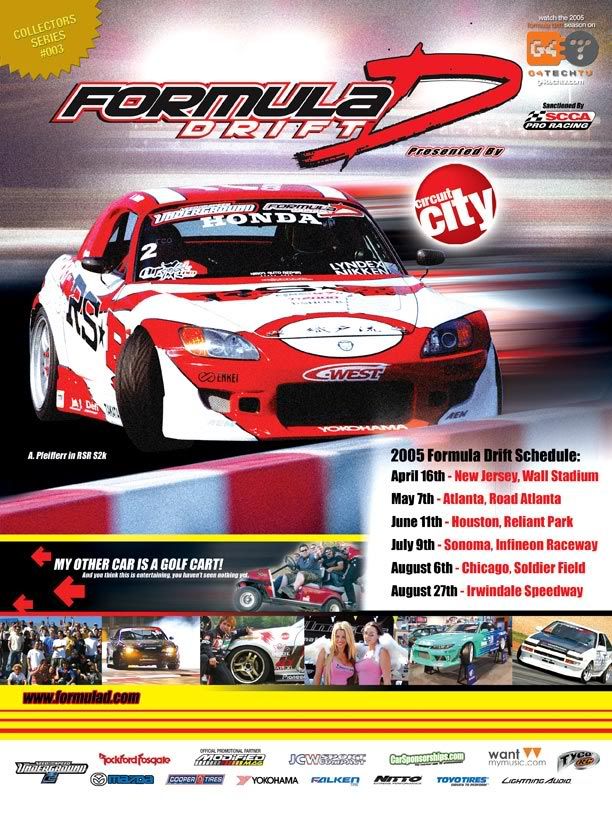 Meet the drivers, see the cars, and enjoy the car
show, in the long awaited event for the first time in
the EAST COAST. Space is extremely limited! Car show,
vendor row, stage will be all outside along with the
drifting.
CAR SHOW SPACE IS AVAILABLE! Register now to secure
your spot, or contact us for further questions.
Register
your Show Car Here
Purchase
Tickets Here
Event info:
- The only OFFICIAL US Drifting Championship
- The producers of the First D1 Grand Prix bring over
40 top drifters in the States to compete for the first
and only drifting championship!!!
- Need For Speed car show features over close to 100
car show categories as well as cash prizes!! (JCW Gift
Certificates, Meguiar's Cleaning Kit, Trohpies!)
- Action Sports Demo.
- Top Japanese Drivers, cars.
- Professional Japanese Drivers Tarzan Yamada, Ucchi
Utsumi to judge
- Special Guest car show judges from Best Motoring
Video, Road & Track, Racer Magazine
- Formula D Umbrella girls on-site as well as Sunisa
Kim and Mary Jo Castillo, Courtney Day
- Full stage with performers, DJ's and music acts
- Driver Autograph session
Car show participants get two tickets to the event per
registration.
http://www.formulad.com
*If you can't register online you can call or email
our office and we can register you over the phone or
send you a vehicle registration form.
Marketing Promotions/Car Show/Media -
Fred@SlipstreamGlobal.com
Drivers/Teams/TV-
Ryan@SlipstreamGlobal.com
interested in promoting? email
fred@slipstreamglobal.com for more
info!
So who's all going?! ((ROLL CALL))
Last edited: